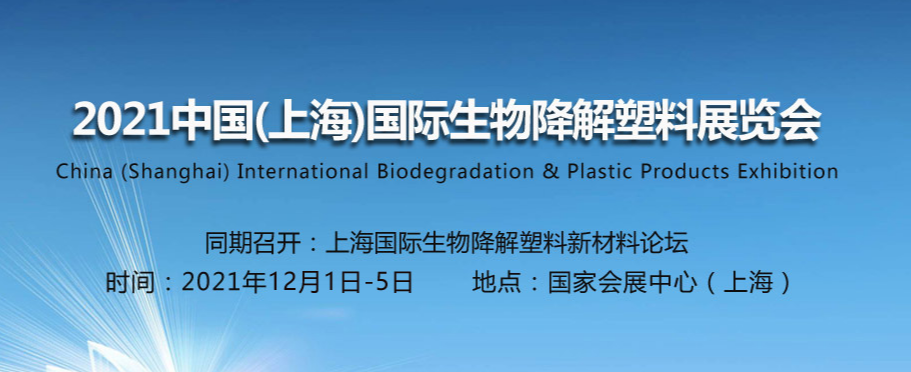 China (Shanghai) International Biodegradable Plastics Exhibition 2021
China (Shanghai) International Biodegradation & Plastic Products Exhibition
Venue: National Convention and Exhibition Center (Shanghai)
National Development and Reform Commission
Ministry of Industry and Information Technology
Ministry of Science and Technology
China Council for the Promotion of International Trade
Shanghai Municipal People's Government
Fluorine plastic Processing Professional Committee of China Plastic Association
Chinese Academy of Engineering
China Fluorine silicon Material Technology Industry Association
China Machinery Industry Federation
China Organic Silicon Industry Association
Shanghai Donghao Lansheng International Service Trade (group) Co., LTD
Shanghai Municipal Economic and Information Commission
Shanghai Industrial Business Exhibition Co., LTD
Shanghai New Material Industry Association
Four seas Exhibition (Shanghai) Co., LTD
Shanghai Jie cheng International Exhibition Co., LTD
Shanghai International Biodegradable Plastics Exhibition is one of the main activities of The China International Industry Expo (CIIF). By the National Development and Reform Commission, Ministry of Commerce, the Ministry of Industry and Information Technology, Ministry of Science and Technology, Chinese Academy of Sciences, Chinese Academy of Engineering, China Council for the Promotion of International Trade and the Shanghai municipal people's government hosted, in collaboration with the China machinery industry federation, Shanghai donghao international trade in services (group) co., LTD., Shanghai economic and information commission, universal exhibition (Shanghai) co., LTD Shanghai Jiecheng International Exhibition Co., LTD. China international biodegradable plastic new material industry top event. China GongBoHui since founded in 1999, after twenty years of development and innovation, through the marketization, specialization, internationalization, brand operation, has become by the international union of exhibition industry (UFI) certification, China's equipment manufacturing industry's most influential international exhibition industry brand, is oriented to the our country industry an important window of the world and economic and trade exchanges and cooperation platform.
The establishment of the special topic of bio-plastic new materials in the "IIF" is in the implementation of the "13th Five-Year plan" development of strategic emerging industries, aiming at the latest technology of international industrial materials, the application of bio-plastic new materials technology to enhance the innovation and application level of industrial manufacturing technology, and jointly promote the sustainable and healthy development of China's industrial new materials industry. At the same time, it provides a platform for technological exchange, brand promotion and product/solution docking for enterprises in the field of industrial new materials. With the development of modern science and technology and industry, the application field of new bioplastic materials will continue to expand, the demand for new bioplastic materials is increasing day by day, and the industry of degradation new materials will usher in a historic development opportunity!
Complete industrial chain interaction, promote industry exchanges
The 23rd GongBoHui have 9 big exhibition, held nc machine tools and metal processing, industrial automation and robot exhibition, energy saving and new energy automobile, information and communication technology application development, industrial environmental protection show, new materials and biodegradable plastics exhibition form a complete industrial chain, gathering area industrial end users, professional audience, Truly realize zero-distance industrial chain interaction, comprehensive docking between production enterprises and user units.
Share the huge audience resources of "CIIF"
After 22 years of exhibition experience, the EXPO has accumulated more than 600,000 effective data of professional visitors. The planned area of the expo is 300,000 square meters. It is expected that more than 2,800 exhibitors will participate in the exhibition, and more than 200,000 professional visitors from home and abroad will visit the exhibition.
Sihai Exhibition (Shanghai) Co., Ltd. is a socialized, marketized and modernized comprehensive enterprise with exhibition and exhibition as its main business and culture as its orientation. It is a comprehensive exhibition organization that mainly undertakes domestic and international conference and exhibition projects and exhibition services.
◆- Biodegradable products: Biodegradable plastics, Biodegradable Masterbatch, Photodegradable Masterbatch, degradable meal box, degradable meal spoon, biodegradable Plastics, starch base, polylactic acid (PLA), (PBS) polybutylene succinate, (PHAs) polyhydroxy fatty acid ester, PBAT material, (PCL) polycaprolactone, biodegradable plastic polyester (PBSA), degradation film, (NPPM) biodegradable plastic, polypropyl carbonate resin (PPC), (PSB) starch biodegradable material, poly -β -hydroxybutyrate (PHB), PHBV material, (PVA) polymer Vinyl alcohol, (PSM) degradation material, (PGA) polyglycolic acid, fully degraded poly (lactic acid), degradation film, starch based plastic shopping bags, photodegradable shopping bags, new polymer environmental protection materials and related production equipment.
◆- Green packaging products: pulp molding, paper pulp molding tableware, paper pulp molding cup, paper pulp environmental protection tableware, environmental protection packaging products, food packaging containers, environmental protection packaging materials, environmental protection fast food supplies and related production equipment.
◆- Film technology products: agricultural plastic film, packaging film, shopping bag, garbage bag, plastic film, anti-rust anti-static film, label film, PE film, POF environmental protection film, heat shrinkage film, bubble film, protective film, film production materials and related equipment.
◆- Degradable fiber products: fiber tableware, fiber flower pot, fiber products equipment and other products.
- biological plastic enterprises: medical biological plastic products, electronic plastic products, food and biological plastic products, hotel application companies such as biological plastic products, biological plastic mobile phone shell, biological plastic cartridge, biological plastic toothpaste box, biological plastic combs, biological plastic toothbrush, biological plastic toothpicks, biological plastic mug, biological plastic knife and fork, and a series of products.